Bitcoin Losers
Bitcoin Losers
Whereas a lot of people have made fortunes from bitcoins there have been a number of high-profile losers through bad luck or misjudgement. Here are some of the biggest bitcoin losers…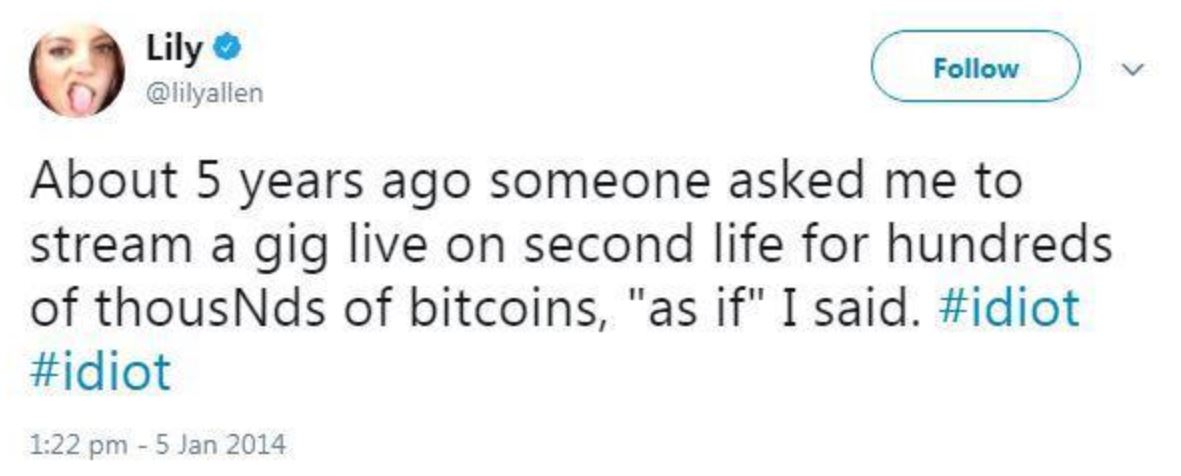 Lily Allen, the singer
British singer Lily Allen will undoubtedly be regretting the time she turned down a substantial bitcoin payment for an online gig.
In January 2014, Allen took to Twitter stating she had declined the offer of 'hundreds of thousands of bitcoins' as payment for an online concert 'about five years ago'.
Assuming this to be around January 2009 – the time bitcoins publicly launched – she was asked whether she would be willing to live stream herself performing to Second Life, an online virtual world, in exchange for bitcoins payment.
The estimated 200,000BTC offered to Allen, which correlates to 'hundreds of thousands of bitcoins', would've only amounted to a few hundred dollars at that time.
However, she was clearly unaware of how rapidly bitcoins' worth would increase over the next eight years. Had the now 32-year-old accepted the online concert fee of 200,000BTC in 2009, it would have a value of $2,000,000,000 based on the calculation that one bitcoin is worth $10,000.
Allen was worth an estimated $8,000,000 in 2014, and her decision to turn down the bitcoins has clearly resulted in a substantial amount of lost revenue for the singer, although her decision was understandable at that time given bitcoins weren't as well-known back then, outside of the cryptocurrency industry.
Information technologist James Howells
Despite being an early convert to the world of bitcoins, computer expert and IT worker James Howells from Wales did not take good care of his bitcoins. He opted to store his coins in a desktop wallet on his home computer.
At the time, his stash of around 7,500 bitcoins was only worth just over a hundred dollars. And that is probably why James didn't think about his wallet when he dismantled his laptop and sold various bits on eBay. The hard drive ended up going into a general waste bin outside of his house and then on to a landfill site near Newport, Gwent.
Not everyone has made the same mistake, take a read of Bitcoin Winners to see some of those who have come out on top.