Debit Cards
Bitcoin Debit Cards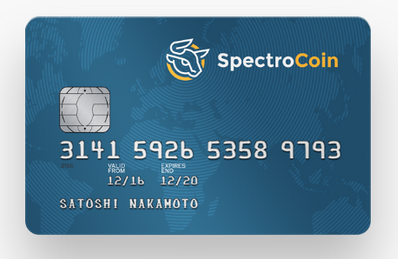 Bitcoin debit cards are pre-paid payment cards that can be used to purchase items using your bitcoin balance. They work in a similar way to standard debit cards, except the balance on your card is bitcoins as opposed to your regular fiat currency, such as Dollars, Euros, Renminbi or Sterling.
How do Bitcoin Debit Cards work?
There are generally two types of bitcoin debit cards available – Plastic, physical debit cards and Virtual debit cards. The biggest difference between the two is Plastic debit cards can be used to make both online and offline payments, whereas Virtual debit cards can only be used for making online payments.
When you make any purchase using a bitcoin debit card – plastic or virtual - only the amount of cryptocurrency needed for that particular transaction is debited from the card. Quite often the debited amount is converted into fiat currency before being remitted to the merchant. However, an increasing number of vendors are now accepting bitcoin directly.
When your balance hits zero or gets low, you can top-up your debit card by simply transferring bitcoins from another of your wallets.
Plastic Debit Cards
Plastic debit cards allow you to withdraw cash from ATMs around the world and, in theory, they're the same as normal debit cards. Each card comes with a chip and PIN number, for example, meaning it can be used in various banks, shops, cash machines worldwide, and online. They have the same visual appearance as a normal debit card, with the Cardholder's name, Card number, Expiry date, CVV/CVC number, Issuer company name and Processor name printed on them.
Virtual Debit Cards
Virtual debit cards can only be used for online purchases by entering the card number and expiry date, ideal for say online shopping and verifying online accounts. They cannot be used to withdraw cash from ATMs, because you can't physically hold them.
Where can you get a Bitcoin Debit Card?
Bitcoin debit cards can be obtained from many service providers, ranging from Wirex, Xapo and Uquid to Advcash, Cryptopay and Spectrocoin to name but a few. Click here for a more comprehensive list of providers.
Bitcoin Debit Card Fees
Bitcoin debit cards are in their infancy and there is not set, or agreed, structure as to how fees are levied, so they vary quite widely from one provider to another.
For example, there might be a $400/€400/£320 ATM withdrawal limit per day with Card A, a monthly service charge fee of $1/€1/£1 with Card B, and a domestic ATM fee of $2.50/€2.25/£2.00 per transaction with Card C.
So, it's important you look out for the following when you sign up for a physical or virtual debit card. Here's a few to look out for:
Plastic Card Fees
Card purchase price
Delivery charge
Domestic ATM transaction
International ATM transaction
Foreign transaction fee
Monthly service fee
Loading fee
Third-party loading fee
Replacement fee
Virtual Card Fees
Card purchase price (set-up)
Foreign Transaction fee
Monthly Service fee
Loading fee
Third-party loading fee
It's clearly important to do your research, making sure you fully understand the card you're buying from its provider - you don't want a nasty surprise when you check your balance! For example, if you think you'll make most transactions in EUR, it makes sense to go for a EUR fiat currency over USD and GBP, otherwise you're more than likely to be charged foreign transaction fees.
The decision of which debit card provider to go for is a similar dilemma to when you first open a bank account and must choose which bank to join - there are pros and cons of each one.
As more and more cards come into the market, the level of competition is rising and many providers are now offering special sign-up deals, such as no loading-fees – so, make sure you shop around for the best deal.
Advantages of using a Bitcoin Debit Card
Universal: Allows you to spend Bitcoins with merchants who don't normally accept bitcoins.
Instant: conversion from BTC to fiat for payment is instant removing the need to use an exchange or find a buyer for your bitcoins.
Flexibility: Many bitcoin debit cards also enable you to spend Litecoin, Ethereum and other crypto-coins and tokens.
Stability: in areas such as Africa where local fiat currency is often unstable or inflationary.
Adoption: using your card will help speed up the adoption of bitcoin as a mainstream currency.
Rewards: Many Bitcoin debit card vendors offer reward schemes for using their cards to make purchases.
Anonymity: A few cards allow you to stay anonymous when spending small amounts via the card.