Bitcoin Lotto
Bitcoin Lotto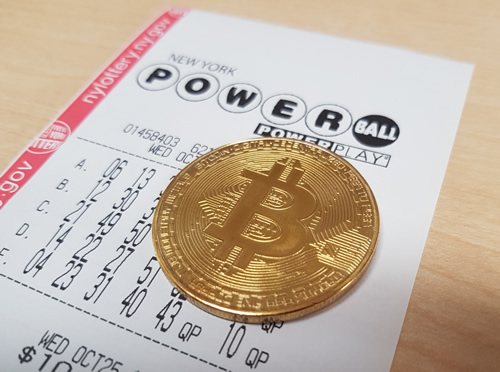 Bitcoin Lotto is an innovative game that gives players the chance to obtain bitcoins as prizes. You do not need to already own any bitcoins to play, instead you pay for your lines in fiat currency and attempt to correctly predict the six numbers drawn to win the jackpot of at least 1,000 BTC.
How Bitcoin Lotto Works
Bitcoin Lotto runs like a traditional lottery, with prizes increasing in value as you match more numbers. All you need to do is sign up and choose six numbers from a choice of 49 for every line you wish to play. If you prefer, you can select the Quick Pick option to receive six numbers at random.
The winning numbers are taken from the results of Bonoloto, a Spanish lottery which takes place every day apart from Sunday. You can win prizes for matching as few as two numbers, right up to the jackpot for matching all six numbers drawn.
Bitcoin Lotto Prizes and Odds
The prizes in the three lowest tiers are paid in standard currency, but Bitcoin Lotto is unlike any other lottery in that it offers you a choice when it comes to the top rewards. If you win the jackpot, you can choose between the advertised number of bitcoins or the cash equivalent (taken from the exchange rate with bitcoin at 9.30pm Central European Time on the day of the draw).
The top prize is worth a minimum of 100 BTC, which the operator says it will increase occasionally.
The odds of winning and the available prizes are as follows:
| | | |
| --- | --- | --- |
| Prize Tier | Odds | Prize Payout |
| Match 6 Numbers | 1 in 13,983,816 | Minimum of 100 BTC |
| Match 5 Numbers | 1 in 55,492 | 1 BTC (or cash equivalent) |
| Match 4 Numbers | 1 in 1,033 | 50 EUR |
| Match 3 Numbers | 1 in 56.7 | 5 EUR |
| Match 2 Numbers | 1 in 7.6 | 1.50 EUR |
All prizes are fixed, apart from the jackpot, which is split according to how many winners there are in both Bitcoin Lotto and Bonoloto. For example, if the jackpot is 1,000 BTC and two Bitcoin Lotto players match the full line in addition to there being two Bonolotto jackpot winners, the Bitcoin Lotto players each receive 250 BTC. Whilst this is still a valuable prize, it is information worth knowing before you get involved with the game.
For all other prizes, you receive the advertised value regardless of how many other players win in the same tier.
You do not need to own a bitcoin wallet to win bitcoins in this game.
How Do They Guarantee Payments?
The Operator pays lower tier prizes from the money raised in sales for the game, with prizes transferred directly to your online player account, and takes out insurance policies for the jackpots.
Bitcoin Lotto Conclusion
As a lottery, Bitcoin Lotto compares well to other games as it has far more favourable odds of winning than other options such as EuroMillions and US Powerball, whilst still offering excellent prizes. The jackpot is worth an eight-figure sum in Euros, but it is the fact that it offers bitcoins as prizes that really makes it stand out.
The jackpot prize being affected by what happens in a Spanish lottery draw may discourage some users and, with odds of 1 in nearly 14 million for the top prize and 1 in 55,492 for the Match 5 award, this is certainly not a guaranteed way to pick up bitcoins, but the opportunity will certainly attract many bitcoin hunters.