Gemini Exchange Review
Gemini Exchange Review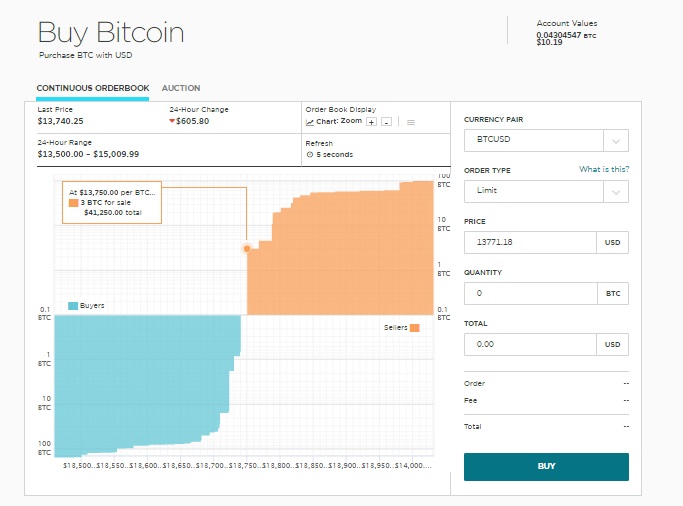 Gemini is a cryptocurrency exchange, trading USD, BTC and ETH. A recent player on the scene in 2015, it is owned by the Winklevoss Twins, long-time crypto evangelists. It has become a major player in the exchange world, by being user-friendly and registered in New York and compliant with New York State Department of Financial Services (NYSDFS) and the New York Banking Law, which gives users confidence in its integrity but alienates hard-core bitcoin buffs.
Gemini accepts customers from the United States, Canada, United Kingdom, Puerto Rico, Hong Kong, South Korea, and Singapore.
Benefits of Gemini
The exchange is easy to use. For professional traders it offers a variety of different orders, so you can set a price then have the order filled when the market goes up or down, and you can also participate in auctions at scheduled times. A significant advantage over other exchanges is the speed with which bank wire deposits reach your account: sending an international wire often takes around 8-12 hours, not days or even weeks as some exchanges take for deposits.
Transferring crypto out is also easy, and incurs no fees. Trading fees are also low at 0.25% or lower depending on your traded volume. Gemini accepts both individual and institutional accounts.
Verification was straightforward. 2FA is built-in, so you need to have your phone at hand to log in; authy is their preferred 2FA authentication system, though you can use the inferior SMS text on a non-smart phone if you prefer, though Gemini discourage this.
Gemini makes a great play of their regulatory compliance: "We are a fully regulated, fully compliant, New York-based digital asset exchange for both individuals and institutions. We are regulated by the New York State Department of Financial Services (NYSDFS) and held to the highest level of capital reserve requirements and banking compliance standards.
As a New York State chartered limited liability trust company, we are a fiduciary with a legal obligation to protect the interests and assets of our customers first and foremost."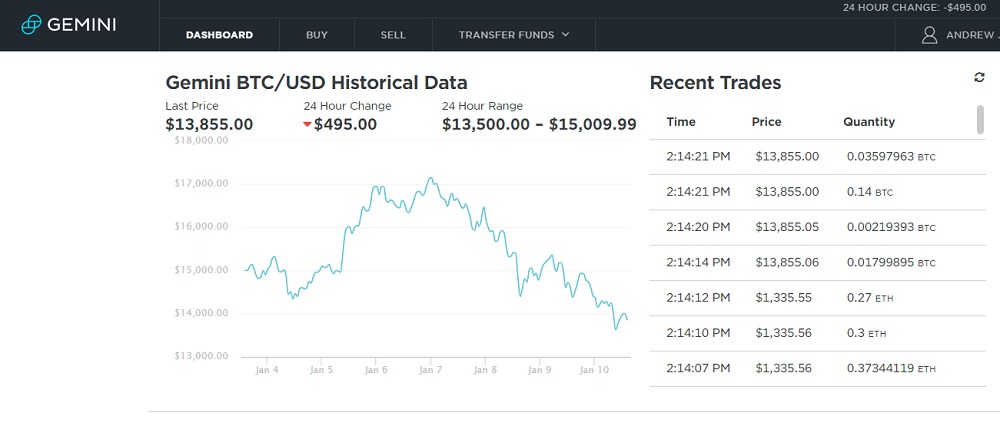 That means that customer fiat funds are held separately from Gemini's own accounts, and are insured by the FDIC. This is standard practice in FX, commodity and other exchanges and brokerages, but unfortunately not so normal in unregulated cryptocurrency exchanges, and has been one of the factors in previous exchange crashes and defaults.
Gemini takes security very seriously, and funds are FDIC insured and held offline in "Cold Wallets" which need multi-sig access. The "Hot Wallets" used for transactions are held on Amazon Web Services (AWS) cloud, which has a good reputation for security.
Disadvantages of Gemini
It only accepts USD as fiat currency, so non-US users have to convert to dollars and have their bank send a transfer. You have to register each bank account and can only wire money from that account. It does not accept dollar transfers from a paypal account, for example.
The only two alt-currencies it deals in are BTC and ETH, which makes it less flexible than other exchanges.
Customer assistance used to be good, with replies usually within a couple of days. Since the bitcoin boom starting late 2017, customer support seems to be overwhelmed and not able to cope with inquiries and has become unreliable.
Gemini Exchange Summary
The simplicity and ease of use of Gemini makes it one of the best exchanges going if you donít mind being part of Ďthe systemí. As exchanges go, it is incredibly safe. Whilst the low/non-existent fees are attractive for USD account holders, it is less-so for those with bank accounts in other currencies. This currency restriction is also an issue with it only supporting BTC and ETH.