Bitcoin.com Wallet Review
Bitcoin.com Wallet Review
Bitcoin.com provides a free, downloadable and easy-to-use wallet which you install on your device. It works on desktops, laptops, including Win, Mac and Linux, and mobile devices. All you have to do is download the zip archive, extract the files and install the app. Confusingly it lacks a README file to walk you through installation. Doubleclick the bitcoin.com.exe file to start the process.
Bitcoin.com Wallet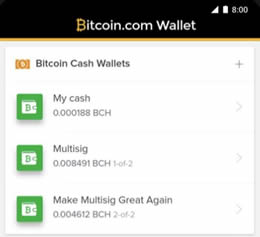 Pros
Free
Easy to install and use
Cross-platform: works on Android, iOS, Windows, Mac OSX, and Linux
Integration with credit card company for easy purchase
Starts off with a paper backup for security
Cons
No automatic password protection and 2FA authentication
High charges for credit card purchases
Only accepts two cryptocurrencies: bitcoin and bitcoin cash
No customer support
A very good feature is that it is virtually obligatory to create a 12-word passphrase to back up the wallet on paper so that you can recover it in the case of loss of the device.
The wallet only works for two currencies: bitcoin (BTC) and bitcoin cash (BCH). Confusingly it calls "regular" bitcoin "Bitcoin Core" which has made some users uncertain what it was.
Interface and Navigation
The interface is clean and self-explanatory. It works without any problems. There is a navigation bar along the bottom which lets you perform five operations:
Home | Displays basic information like wallet balance(s) at a glance.
Receive | Generates a new address to which others can send you BTC/BCH.
Scan | Uses your phone's camera to scan another user's BCH address (in QR Code form). Makes sending bitcoins or bitcoin cash easy.
Send | Allows you to send your BTC/BCH to others by inputting their Bitcoin address.
Settings | Application settings: setup new wallets, edit wallet names, change currency display, set spending password, etc.

This is all quite straightforward. You can send and receive the two cryptocurrencies it supports without issues. As it is on your own computer or device, you can also back it up easily. The wallet has built-in integration with Simplex, a credit card processor. This makes it very simple to buy bitcoins or bitcoin cash, without the hassle of registering and verification which many exchanges insist on. You can just input a credit card and buy cryptos for fiat currency immediately. This would seem to be advantageous.
Disadvantages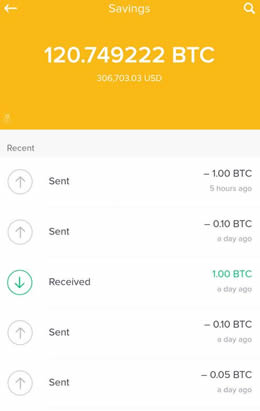 The charges are high: bitcoin.com charges 2.5% and Simplex 5% (min $10), so it isn't really good value for money. Also there are complaints on the internet that credit cards were charged and they did not receive their bitcoins, coupled with poor responses to these issues from the card company.
There is no user-support from bitcoins.com and if you have any difficulties, you register on their forum and hope that some other user might be able to help you. For an organisation charging a large fee for some of its services, this isn't good enough.
The worst issue is that lack of password protection and two-factor-authentication from the installation process. You have to go into settings and set one up separately. This is clearly a serious security breach – someone could steal your smartphone, or even access it while you were away from your desk, and transfer the contents of the wallet.
Bitcoin.com Wallet Summary
For ease of use, this is a good wallet. Buying bitcoins via credit cards takes a lot of the hassle out of the process.
The two particular downsides are the poor choice of extra security which you have to install from the settings menu – this should be part of the obligatory setup process. Also, the high charges and the complaints of some dissatisfied customers seem to make this a less attractive proposition than it first appears.