Bread Review
Bread Review
Bread is a free wallet app for storing, sending and receiving bitcoin on mobile only. Co-founded by Aaron Voisine and Adam Traidman, the Switzerland-based wallet comes in 14 different languages and boasts customers in over 150 countries. It's recently undergone a complete application revamp, proclaiming improved security and privacy alongside a new user interface.
Bread Wallet

Pros

Free
Open source
Multi-language
Good customer service
iOS and Android

Cons

Basic App
No split detection
Doesn't always open first try
No support
Bread's interface is bright, colourful and very simple for the user to navigate. A lot of thought has clearly been put into the redevelopment of the software with a straightforward yet effective design, although it could be seen as too basic for some users.
You will be prompted to create a six-digit pin number, used to protect your private wallet from unauthorised users or entry. You're also given 12 seed key words, used to restore your wallet if your phone gets damaged, lost or stolen. ,Make sure you keep your phone screen unlocked when writing the 12 seed key words down on paper. Our screen locked during the process, and the wallet didn't then open on the same page when the screen unlocked. We contacted Bread customer support via email and Twitter and, in fairness, they replied with a helpful response inside two hours. Rather disconcertingly it seems the seed is stored in the bread wallet. On this occasion it helped us 'unlock' or restore the wallet, but what if someone else had found those words?
What is in the Bread Wallet?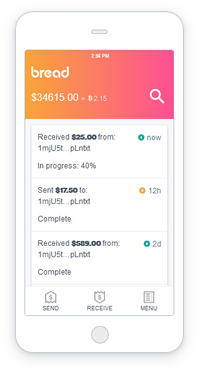 The app contains Send and Receive buttons along the bottom, used for sending and receiving your bitcoins.
Sending bitcoins using Bread is straightforward, and there are three options available for uploading the recipients' bitcoin address:
Using the scan button to scan the QR code
Copying the address to your devices clipboard
Press the 'To' button to enter it manually
You can then enter the desired amount you wish to send in GBP or bits, write a memo if necessary, and press Send.
Receiving bitcoins from another user on Bread is also relatively hassle-free, achieved by allowing them to scan your QR code, copying your address to your device's memory, or sharing your address by email or text message.
There is also a Menu section alongside Send and Receive, containing four detailed sub-sections – Security Center, Support, Settings and Lock Wallet.
This Security Center allows you to 'enable all security features for maximum protection' with options to update your six-digit PIN, enable Touch ID, and access your noteworthy paper key.
The Support section is beneficial, providing a wealth of helpful information and answers to multiple frequently asked questions, including importing wallets, settings, and sending and receiving bitcoins.
There's useful options available in the Settings, from importing and recovering a wallet to toggling notifications and updating your PIN.
The Lock Wallet is a valuable too, used to lock your app in place when using it, only unlocking it when you enter your six-digit pin.
When you receive bitcoins in your wallet, a Transaction Details sub-screen clearly shows various details including the date and time of the transaction, amount, status, block confirmation number and bitcoin transaction ID, which can be used as proof the payment was made. The whole process for the transaction we made was quick and easy from start to finish.
Bread Security
The benefit of using mobile-only software is its convenience for the user, however, it's deemed to generally be less secure than hardware devices as your private key is on the phone and thus 'hackable'. Nonetheless, the Bread connection should be private for an individual user – a deterrent for theft when you're active in the wallet sending and receiving payments – although security is understandably always a slight concern.
To counter this, Bread have tried to increase the safety of their wallet with the introduction of the Security Centre, along with Touch ID and tightened privacy settings. If you do ever lose your phone, you can recover your wallet on another device using your seed.
That brings us back to the fact that the seed is stored in the Security Centre. Surely this isn't a good idea. You do need to know the six-digit PIN, but that can easily be hacked by someone watching over your shoulder.
Bread Wallet Summary
The fact you can only send and receive bitcoin, and no other cryptocurrencies, on Bread does limit its market appeal against its competitors. Furthermore, Bread is only available on mobile devices, not desktop, and the app may be too simplistic and basic for some.
The wallet has visibly developed over time and is a solid, visually-appealing, if unspectacular, option for bitcoin users.
We do, however, have concerns over some of the security aspects and note that, while we didn't encounter such problems, many users are reporting that the app crashes following updates.