Electrum Review
Electrum Review
Electrum is one of the most popular free bitcoin wallets in the market today. It is a lightweight, easy and secure way to store your Bitcoin balance. Electrum only uses indexes of the blockchain which means you donít need to download the large, and ever growing, blockchain files on your computer.
Electrum Wallet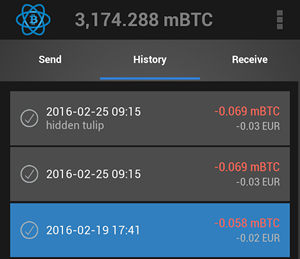 Pros
Small file size
Open source
Customisable settings
Multi-platform
Multi-currency
Plug-in additions
Supports Tor
Cons
Very Basic Interface
No exchange integration
Bitcoin only
Seed stored on the phone
There are no bells and whistles to the Electrum interface; in fact it is somewhat sparse. First impressions of the application aren't great, the interface is uninspiring and seems somewhat featureless. This is an issue for first time users who aren't on first terms basis with all the crypto currency jargon as the settings aren't explained, or especially straight-forward.
When you sign up for Electrum it will offer information on why it needs everything it is asking for. Electrum respects the user, and their potential need for anonymity. Because of the lightweight nature of the application, installation and set-up of the bitcoin wallet are very fast and easy.
You will be asked upon install to write down and keep a 12-word master seed. This is to help you regain access to your wallet should something unfortunate happen to your device or computer.
There is also the option for two-factor authentication (2FA), for which you will need the Google Authenticator application. But this is an optional method for making your wallet more secure.
The interface for Electrum is very bare, giving you only the basic information without any colour or design. However, there is beauty in the simplicity of the interface. Once familiarised with the different sections, and settings then there is a vast range of features and capabilities to personalise the experience. So, beneath the dull exterior there blossoms a highly capable and customisable wallet.
The default display of your bitcoin balance is in mBTC (0.001BTC) which makes dealing with smaller amounts much easier. You can change both the denomination and number of decimal places in "Preferences".
Within the vast settings is the ability to show the fiat equivalent of your bitcoin balance and transactions. BitcoinAverage provides the data to update this, and allows you to choose which fiat currency to display in. This is an incredibly useful feature while the BTC price is so volatile, as it is somewhat difficult to track the equivalent worth of your bitcoin otherwise.
Electrum allows you to add "plug-ins" to supplement the basic features, such as sending and receiving payment requests by email, or facilitating multi-signature wallets. It's a good idea and lets Electrum keep the base installation small while allowing advanced users to add features if their devices allow.
Transactions with Electrum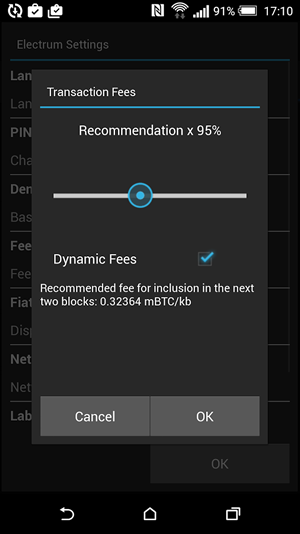 Making transactions with Electrum is very straight forward. Along with the usual request for an address or QR code there is a slide bar with which to choose the fee you want on your transaction. A lower fee will yield a request with lower priority and a slower transaction. This ranges from 189 Sat/byte to be within 25 blocks , up to 569 SAT/byte to be on the next block.
You also have the choice within settings to use changing addresses for transactions as well as using multiple addresses. This is a useful feature for privacy on the blockchain.
Is the Electrum Wallet secure?
Electrum is very secure, and gives you the tools you need to back up your wallet in all the necessary fashions. The open source nature of Electrum also means users can review and check the source to be sure that the wallet is not, for example, parsing your private keys. Not all wallets offer open sourcing, so don't underestimate this.
What few people know is that Electrum supports Tor, which allows you to block your IP address from external servers. This obviously isn't a complete privacy solution, but it does help with anonymity issues.
Electrum Wallet Summary
Electrum is an incredibly versatile and powerful wallet. It gives you the choice over how you manage your currencies. It's not flashy or particularly straight forward to learn, however once you get to grips with its capabilities, and have the settings to you preference it becomes an extremely easy experience.