Jaxx Review
Jaxx Review
Jaxx is a free mobile and desktop wallet for bitcoin as well as a number of other cryptocurrencies including Bitcoin Cash, Ethereum, Litecoin and Dash. The wallet was originally developed by industry pioneers, like the co-founder of Ethereum, for their own use and has now expanded into the multi-currency multi-platform wallet we see today.
Jaxx Wallet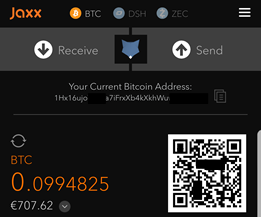 Pros
Free
Easy to use
Multi-platform
Multi-currency
Exchange integration
Cons
Not open-source
Security bugs discovered
Short history
Poor Support
The stand-out feature of Jaxx is its well-designed and friendly interface making it ideal for first-time users and veterans alike. The designers have spent a lot of time making sure the look and feel works across all the platforms they support. Sending, receiving and balance-checking are very intuitive. If you installed Jaxx without reading another word about it and not using any instructions, you would most-likely be able to make it work for you.
Indeed, Jaxx say they are developing software for the masses and they've obviously spent a lot of time studying how users interact with the wallet.
Installing Jaxx on your computer and/or phone is also very simple and the creators do not require you to provide any information about yourself when setting it up – known as permissionless access.
You will be required to create a 12-word master seed list to enable a restoration of your wallet should your phone or computer fail, get lost or be stolen.
Once inside you will see wallets for Bitcoin, Dash and Zcash but you can easily add a wallet for any of the currencies listed below; just go to the menu, select 'wallets' and tick the boxes that you need. Similarly, the fiat currency is likely to be US Dollars, but you can change this to your own preference of the XX currencies supported by Jaxx, meaning you can always see the local value of your Bitcoins.
Sending and receiving Bitcoins is via the usual routes of a QR code and Bitcoin address-strings that can be copied to your clipboard with a single press/click for emailing or texting to your transactional partner.
One annoying 'bug' is that your balance will seem to never update no matter how many times you stop and start the Jaxx Wallet. That is until you notice the small "update" symbol above the currency code (for bitcoin, the letters BTC).
Jaxx and Shapeshift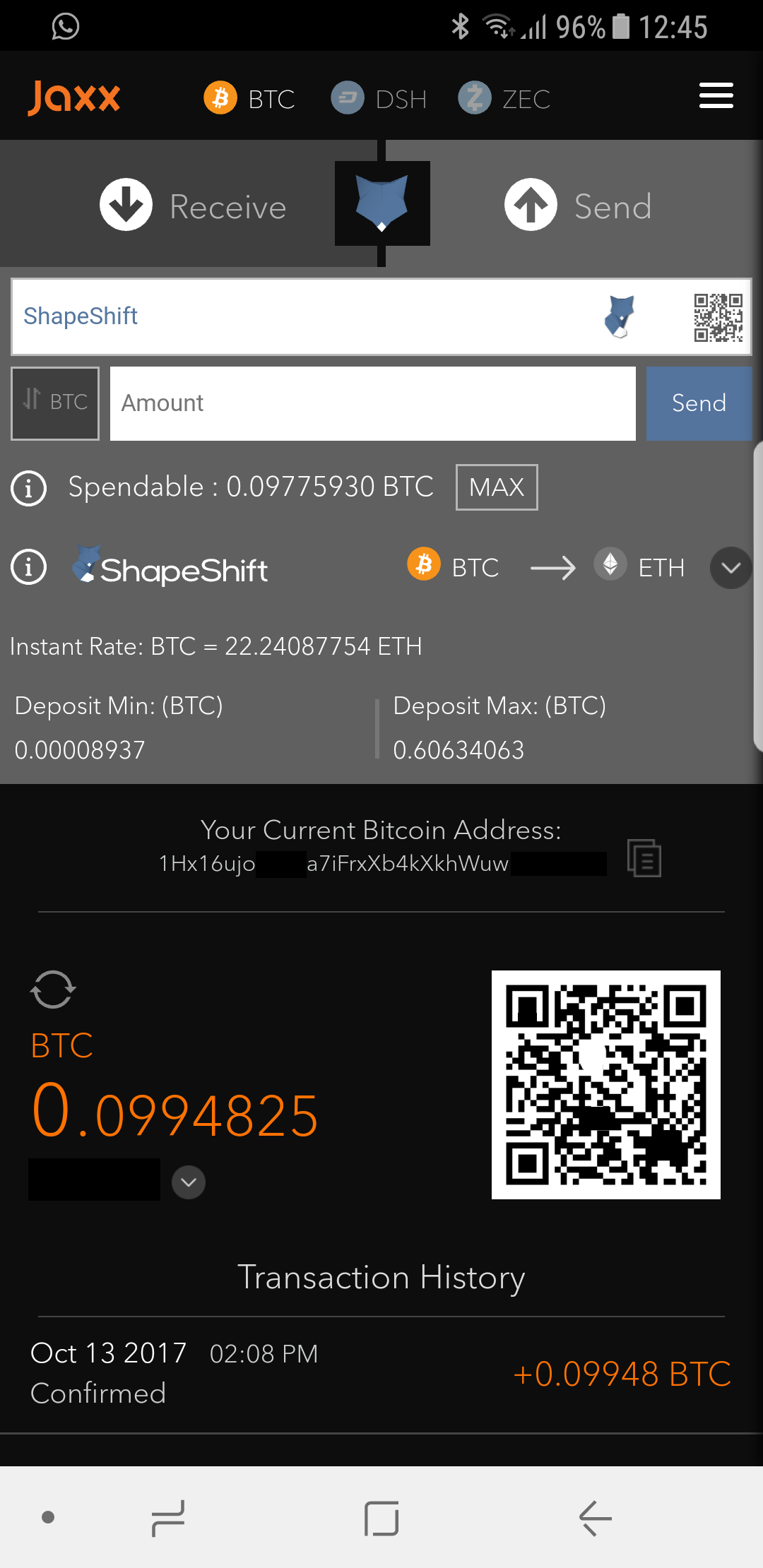 Although Jaxx is independent of any trading platform, they have integrated support for Shapeshift. This means Jaxx users can almost seamlessly convert between their cryptocurrency assets without the need to create a trading account.
For example swapping from Bitcoin to Ether. You simply go to your Bitcoin wallet, press the small Fox symbol (between Send and Receive) and choose ETH from the drop-down menu. Now enter how much BTC you want to swap and press the blue send/shift button. Done!
Is the Jaxx Wallet secure?
The software is not open source. This is a major issue because it means nobody can accurately verify how the wallet works. The main purpose of a bitcoin wallet is so you have control over your own private keys. But with Jaxx that is a debatable point. How do you know that the software is not making a copy of the keys, or being hacked to make copies, and using them to send currencies to bad actors? There's no reason to believe Jaxx developers would be anything other than 100% trustworthy, but it would be nice to be able to check.
Which brings us to a vulnerability that was reported in June 2017 by Vx Labs. They alleged that Jaxx stores your 12-word seed in unencrypted form, making it very easy for a hacker to copy them. Once a hacker has the seeds they can then 'restore' the wallet and transfer the funds out of that wallet and into their own. Users have reported losses of up to $400,000 worth of coins due to this hack.
Now, none of this may be true. And users of the mobile version of Jaxx should be safe anyway. But the problem comes back to the software not being open sourced. We simply cannot verify any of this one way or the other.
Jaxx Wallet Summary
Jaxx is a good wallet for a first venture into the bitcoin world. It is a bright and easy-to-use wallet for relatively small transactions. The support of alt-coins is very extensive, as is the choice of fiat currencies, and the integration of Shapeshift compliments that "one wallet for everything" approach. However, security concerns over the code mean it is not recommended for storing large sums of bitcoin for protracted periods.
What crypto currencies does Jaxx support?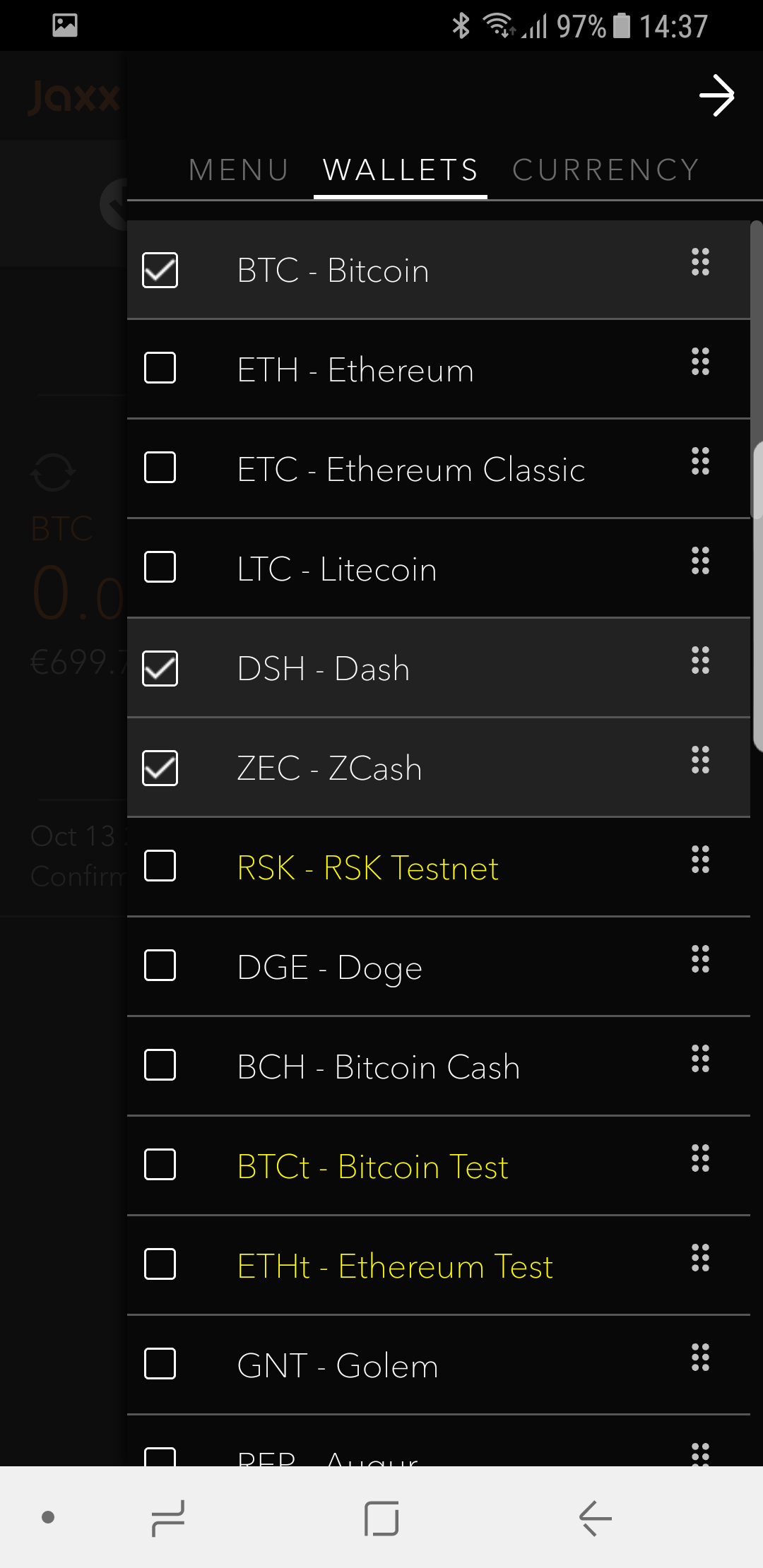 Bitcoin
Ethereum
Ethereum Classic
Litecoin
Dash
ZCash
RSK Testnet
Doge
Bitcoin Cash
Bitcoin Test
Ethereum Test
Golem
Augur
Gnosis
Digix
Iconomi
Monaco
Bancor
Aragon
TokenCard
Civic
STOX
BCAP
EOS
FirstBlood
Status
Po.et
Qtum
WINGS
Edgeless
Melon
Cofound.it
Matchpool
Creditbit
iExec RLC
Musiconomi
Santiment
Maecenas
Salt
TenX
DAPowerPlay
Enjin
BlackMason
Worldcore
Fuel
DomRaider
AION
Paypie
Basic Attention Token
UnikoinGold
Storm
Swarm
What fiat currencies does Jaxx display?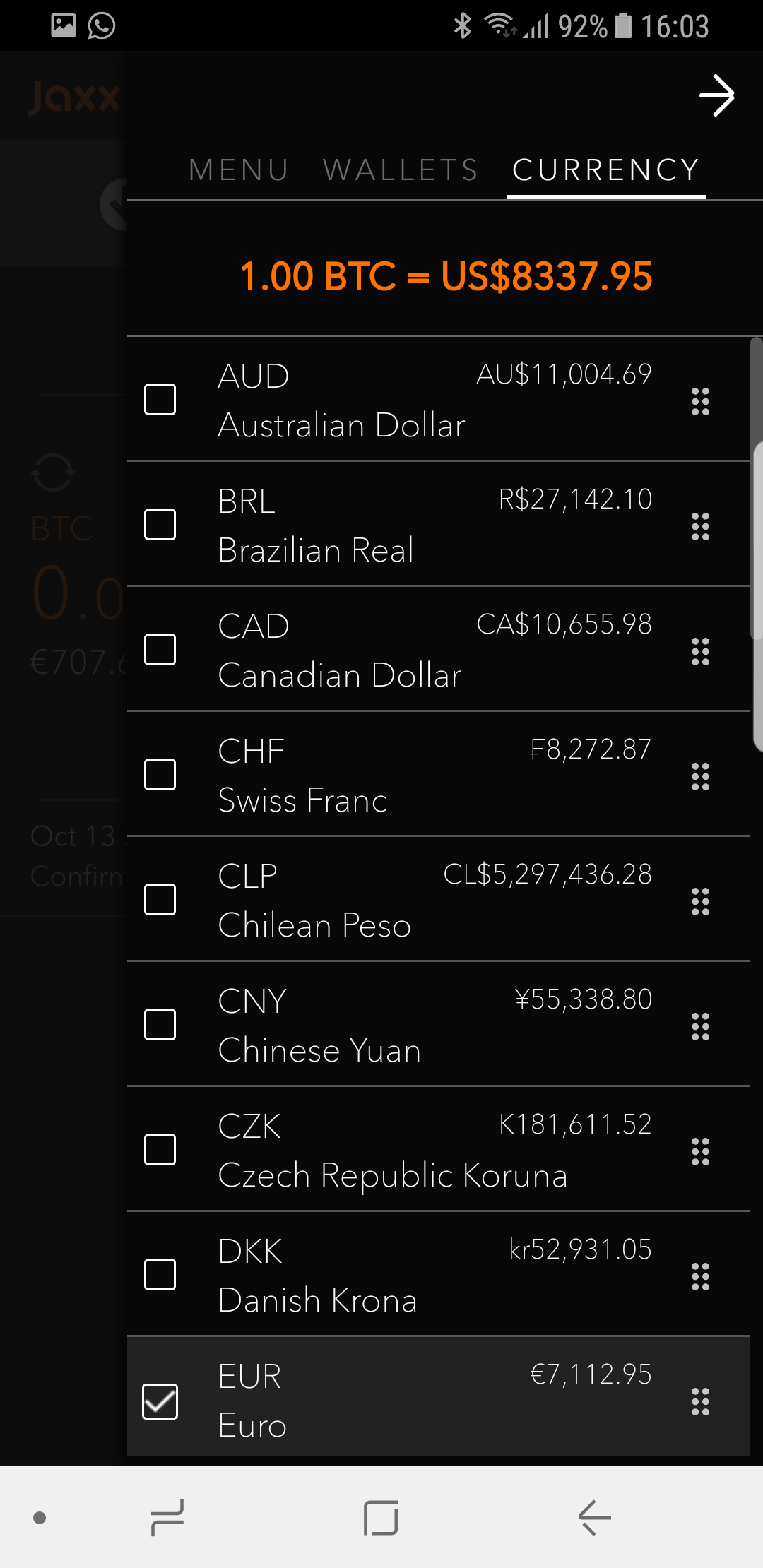 Australian Dollar
Brazilian Real
Canadian Dollar
Swiss Franc
Chilean Peso
Chinese Yuan
Czech Republic Koruna
Danish Krona
Euro
British Pound
Hong Kong Dollar
Hungarian Forint
Indonesian Rupiah
Israeli New Shekel
Indian Rupee
Icelandic Kroner
Japanese Yen
South Korean Won
Mexican Peso
Malaysian Myr
Norwegian Kroner
New Zealand Dollar
Philippine Peso
Pakistani Rupee
Polish Zloty
Russian Ruble
Swedish Krona
Singapore Dollar
Thailand Bhat
Turkey Kira
New Taiwan Dollar
United States Dollar
South African Rand