Trezor Review
Trezor Review
The Trezor Wallet is not cheap, but has become one of the most popular vaults available. Like all hardware wallets, Trezor is targeted at people who have substantial holding in bitcoin and who, rightly, prefer offline security to storing their coins online. It is not a wallet that you'd want to use for day-to-day transactions of smaller amounts.
Trezor Wallet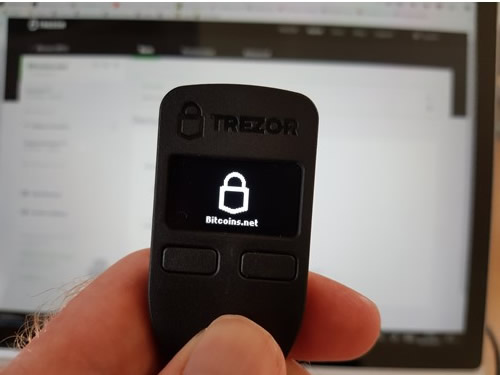 Dimensions: 60mm x 30mm x 6mm
Weight: 12g
Pros
Very secure
Double verification for transactions
Compact and water resistant
Can be used to sign transactions on 'unsafe' computers
Open source software for future development
Cons
Cost
Very small screen
Platic casing
Inadequate set-up instructions
Poor customer service
Only paired with desktop OS
The Trezor Wallet device is about the same size as a standard USB storage stick, only a little wider, and connects to your phone or desktop using a micro USB connector. For a relatively expensive product, the plastic housing feels a little cheap and you'll probably feel underwhelmed when opening your package.
The Trezor apparently operates between -20 degrees and +60 degrees Celsius, though we've not tested it to those extremes. The OLED screen is quite small and only displays 128x64 pixels meaning six lines of very small text, so beware if you have poor near vision. There is no battery in the device and it relies on external power from your desktop via the USB.
Interesting fact: the word "trezor" means "vault" in the Czech developer's language
When you buy a Trezor, the box contains the actual hardware wallet device, a micro USB cable, a key-ring style fob for attaching to the device, two cards for writing down and safely storing your recovery seed words and a next-to-useless user instruction sheet - this is a common complaint amongst owners, so bitcoins.net have produced a more comprehensive guide to setting up your Trezor Wallet along with instructions on how to use it. Sadly, the customer service levels from the manufacturers, SatoshiLabs, match the instructions and leave a lot to be desired.
After the initial set-up, though, the Trezor become friendlier to use. The PIN generation method is clever, using a randomly generated grid on the device to correspond to boxes for accessing the wallet online and for verifying transactions. It is also very secure; if someone tries to guess your password and gets it wrong, the device is locked for a period that squares every time another wrong guess is made. A brute-force attack with just 30 incorrect tries would take more than 15 years to attempt.
Should the worst come to the worst and you lose or damage your Trezor beyond repair, the seeding allows you to recover your wallet to a new device of the same type or to other hardware wallet types that use BIP39 and BIP44 standards.
Trezor Wallet Summary
Although the Trezor Hardware wallet is comparatively expensive, has a cheapish feel and is hard to set-up, it remains one of the best hardware wallets on the market for security. It has also stood the test of time, having been around for longer than other hardware wallets – that says a lot in the fast-moving world of bitcoins.