Bitpay Review
Bitpay Review
The BitPay wallet rates as one of the highest rated on Google play and the App Store, though not the most downloaded. It is of course not without fault, but BitPay has a lot of things going for it, and is definitely worth consideration for your mobile wallet.
Bitpay Wallet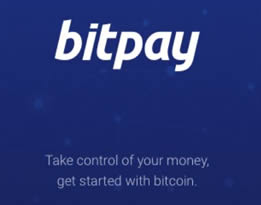 Pros
Free
Very Easy Interface
Exchange Integration
Variable Fees
Cons
Quite high fees
Only BTC and BCH
Limited Settings
On first impressions it is clear that BitPay is attempting to model itself as the PayPal of the Bitcoin world and to some extent is has success there. It is nowhere near as comprehensive a service, but some key similarities remain. BitPay is easy to use, and easy to understand.
Setting up your BitPay wallet is fairly straight forward. All you need to do is enter a few details and you're off. In fact, you can start using your wallet with minimal setup. Though it will ask you if you want to backup your wallet (and you absolutely should) you don't have to before you can start using it, so in that respect it is a very fast setup.
There are five different tabs at the bottom of the BitPay interface; they are Home, Receive, Scan, Send and Settings. Scan and Receive both give you the option to receive funds. What is clear here though is that BitPay is catering to the beginner. Someone who is new to Bitcoin transactions may not necessarily know that to find the QR reader they need to go to "Receive" first, so BitPay is laying this kind of information out instead. This is a nice adjustment and isn't a detriment to experienced users, but does give added clarity to those with less experience.
The settings are not particularly extensive, and largely give you very basic interface options like changing the colour of your wallet. What are missing are settings like being able to choose the denomination of Bitcoin in which your balance is displayed. This plays into the model of wanting to cater to the masses with a simple interface that can't be fiddled with. If this kind of thing doesn't bother you then it is not a problem, but if you like to be able to tinker with the display of your app, then it might become frustrating after a little use.
Transactions with BitPay Wallet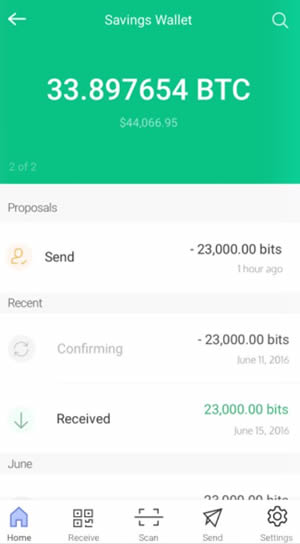 BitPay offers the option to link with an exchange. This can be either Coinbase or Glidera (US only). This means that within the BitPay app you are able to buy and sell Bitcoin with fiat currency and withdraw it straight into your BitPay wallet. This is a great feature though it is worth noting that you will incur large fees for this method as you are subject to both the extensive Coinbase fees, and the network fee.
The network fee is not adjustable in the send section of the app. However, there is the ability to change the fee, you just need to access it via settings. Here there are five different options: Urgent, Priority, Normal, Economy and Super Economy. These offer different priorities on the blockchain and (at the time of writing) vary from 341 – 691 sat/byte. This is somewhat high, though not astronomically so.
One feature which you won't often find is the ability to buy Amazon gift cards (currently only for the US amazon) straight from the app. This is an interesting alternative to using an exchange for withdrawing your cash.
Is the BitPay Wallet secure?
BitPay gives you the option to secure your wallet in two different ways, the first being by backing it up. You do the backup in the usual fashion of writing down 12 different seed words and keeping them somewhere safe. This is an option on BitPay and is not mandatory, though highly recommended, to avoid losing your device and your entire BitPay balance.
The second option (only available once you back up your wallet) is to lock the app itself using either your PIN or fingerprint. Generally a mobile wallet is only as secure as your phone, so access to your phone is all that protects your wallets contents. However by adding a lock to the app you are securing yourself against people that might be able to steal your phone once unlocked.
Bitpay Wallet Summary
BitPay is a pretty comprehensive mobile wallet; it offers a range of features which are great for beginners of recreational users. The wallet doesn't offer much for the experienced user, as the interface is rigid with limited settings. The fees are fairly high, but you are paying for the smooth, more accommodating experience. Its integration with exchanges as well as the ability to buy Amazon gift cards again make it very accommodating to the mainstream, but remember that you will pay for the privilege of these services.