Coinbase Wallet Review
Coinbase Wallet Review
Coinbase is by far the most popular online exchange for Bitcoin, however as just a wallet it doesn't have the same success. Keeping your Bitcoin in a Coinbase wallet is great for buying and selling with fiat currency on the exchange, but unfortunately as a standalone wallet it doesn't stack up with most potential competitors.
Coinbase Wallet

Pros

Free
Easy to Use
Intuitive interface
Exchange integration

Cons

Large Fees
No backups
High Profile site for Hackers
Propriety software (not open)
Without a shadow of a doubt, the best part about a Coinbase wallet is the ease with which you can buy and sell fiat currencies (despite the fees, but we'll get to that later). It would be wrong to talk about a Coinbase wallet without mentioning the exchange as it is such a titan in the industry at the moment. The exchange allows relatively seamless transactions between currencies and displays them in an easy to read format.
However, to change currencies effectively you will need to have some Bitcoin (or fiat currency) in your Coinbase wallet. The issue with this is that the wallet side of Coinbase is not very good. There are several key wallet features that simply aren't available, among a myriad of other shortfalls.
When you sign-up to Coinbase, which is regulated, you need to provide a series of details, all of which allow for zero anonymity. Law dictates that as an exchange they must take personal details from the individual using the service. This includes but is not limited to uploading (and having verified) a picture ID, and a picture of your face.
Once through the rigorous sign up procedure there is a clean, efficient and seamless interface. The layout displays all of the wallets capabilities in a clear and cohesive fashion. There is a main dashboard showing current currency charts as well as tabs to Buy/Sell, access your Accounts (Wallets) as well as for Tools, and Settings.
There are, however only three options for your Bitcoin wallet: Send, Receive, and Rename account. It is clear at this point that the wallet is purely a tool for the transition of funds to other places (in order to charge fees). The developers did not design the wallet for long term storage. Because such a clear design choice has been made by the developers, it is highly recommended that you do not use a Coinbase wallet to store large amounts of Bitcoin for prolonged periods as it is not fit for purpose – aside from security considerations (below).
Transactions with Coinbase Wallet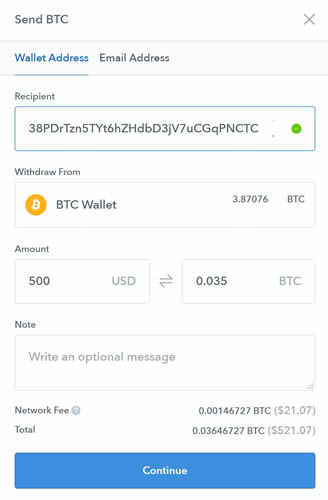 Sending Bitcoin out of your Coinbase wallet is also not without its own hurdles. There is an astronomical fee for sending Bitcoin to a different Bitcoin wallet. Bitcoin mining fees are part and parcel of crypto transactions, but Coinbase's fees seem so far above the market rate that it is clear they are attempting to disincentivise withdrawals. This makes sense as they make their money while you are buying and selling, not by having you keep your bitcoin away from their service. Once more this is a clear reason not to rely on Coinbase as a wallet alone.
Tip: Coinbase has free transactions to and from GDAX which, from time to time, allows free withdrawals. Transferring to GDAX and then to a wallet can be a great way to avoid the large fees.
Is the Coinbase Wallet secure?
The Coinbase wallets security is a very polarising issue. On the one hand the wallet is fully insured, but on the other it is more of a target for attackers and offers no backup options.
Coinbase, being the size that it is, insures all of its customers funds in the event that Coinbase as a whole is victim of a cyber, physical, or employee theft. That's great news for the community as a collective. However, what their insurance doesn't cover is attacks on your individual account. Your long (and hopefully secure) password protects your account and private keys, but that is all that stands between an attacker and your Bitcoin. There is, however, also the option to add two-factor authentication (in the form of an SMS message, or an authenticator app) to add a layer of security to withdrawals, but this is not activated by default.
The issue with individual security is that the Coinbase wallet is an online wallet. This means that your password and wallet is only as secure as your internet connection. If someone is able to watch your actions, then they would be able to steal your funds. This is not something that is possible with offline wallets. Be sure to scan your device regularly for malware and viruses to ensure as best you can that no one is watching your login.
There is no way to back up your wallet, but this is because of the nature of an online wallet. You can access your wallet from anywhere with just your password, and Coinbase the company backs it up for you in offline storage.
Coinbase Wallet Summary
Coinbase is not a wallet you should use to store Bitcoin for a prolonged period. It is great for the exchange of Bitcoin for fiat currency or vice versa, but it is not for use as a wallet. The fees will sting you and are made to discourage you from ever moving your Bitcoin out of Coinbase. Though the interface is easy to use, and nice to look at, as soon as you have bought your Bitcoin at the exchange you should look to moving it to more effective wallet for safe keeping.